Showing & Securing the back of a 360 Lace Front Wig
'm gonna be using a unit from noble hair , it is a 360 lace wig comes with all these amazing
features combs in more ,  so I wanted to start off by just simply placing the unit on the wig head.
 For the tolls the wig canvas head and the tripod stand ,i will have that all down below in the description box.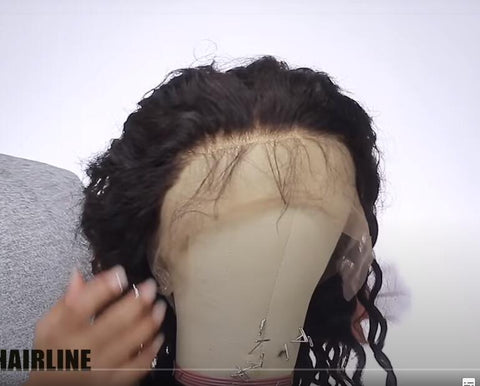 I wanted to go ahead and customize the  hairline ,customizing the hairline makes your unit look so much more natural and more realistic , you want  your ponytail to appear as if it is growing out of the your scalp  so really focusing on getting your hairline to look like it your owns.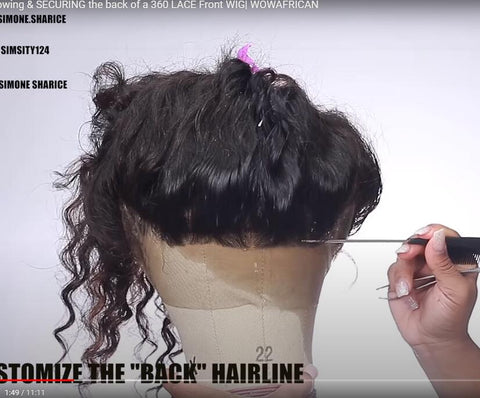 It is really really important the second step, i m gonna to use this brush , and i m gonna to use some mousse and kind of just set the font of the hair just slick and back until we get to the back.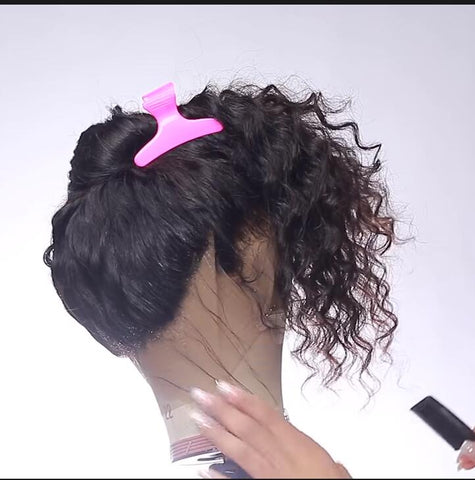 I like to go ahead and use some mousse just to keep everything in place, so i am gonna go ahead and pull the wig down a little  bit more. Because we are gonna go ahead and start working on the back of the hairline make sure it is tightly placed down and tightly  t-pin.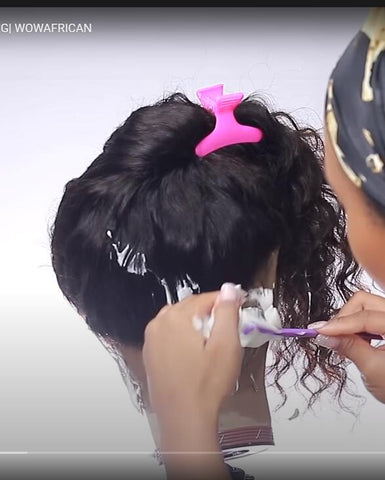 So if at the back lift it up a little bit make it comfortable for you that part is where your ears are gonna be. And this is the back of your hairline   it's just kind of mapped out for you already.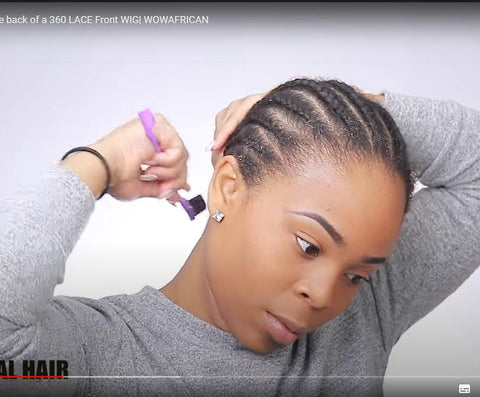 get some water and you're gonna spray this because we want to kind of pluck it a little bit so that the line isn't as straight and it's a little bit jagged like how the back of your hair really looks well on about JA back of my head .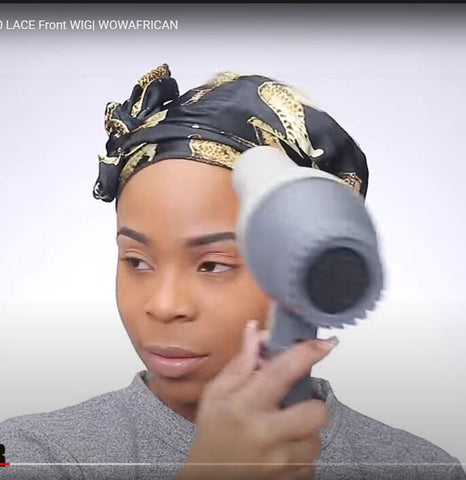 look a little bit jagged the only con that I came across when it came to trying to plug this is with this unit the adjustable band that already is on the wig is kind of slightly lower so I couldn't really go in on the pluck and I couldn't really make it look as realistic and kind of mimic my own as I want to .because I was kind of restricted I would kind of restrict it with how far up I can go with the plugging just got a little bit of baby hairs because I just wanted to set the baby hair is in the back I didn't take out a lot I took out a little bit and I did this for a more natural and realistic look go ahead and cut them you don't want these long baby hairs in the back because you know it just won't look as realistic and they'll give you that Wiggy look that everyone kind of usually gravitates towards that I don't like so now.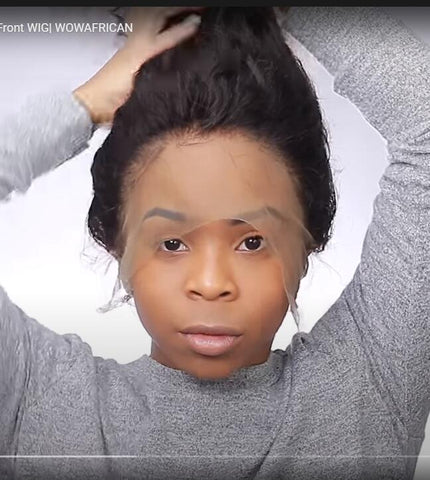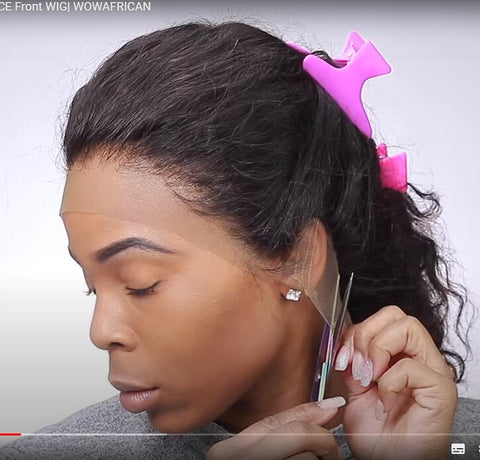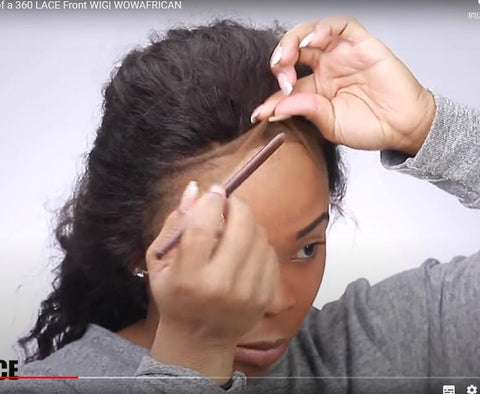 it's time to set my rule here I use some gotta be glued and I use some holding spray to kind of just set my hair because you can see the braids in the front are very fuzzy in the back make sure you're combing up all the little naps and kinks in the back and make sure you're getting it to stick because we're going to be using glue.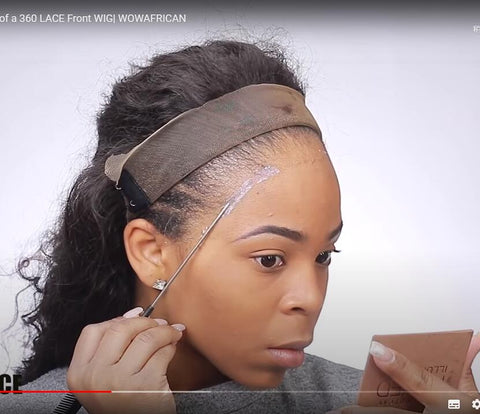 so after I revealed my braids I went ahead and I use some alcohol do not put the alcohol on your actual hairline put it on your skin that's where the glue will be going for the adjustable bands in the back make sure you tight that.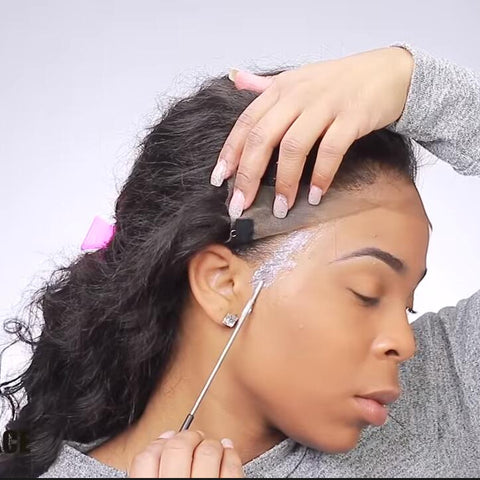 when you're doing your hair these dotted lines look out for these because that's where your ears are gonna be and you want to cut around.  so that it fits perfectly just like this now I'm gonna be using a brown pencil just to kind of map out my hairline and I could have used white but I didn't have white on hands and I'm just putting small dots.because I don't want my wig to pass those dots when I put the glue down.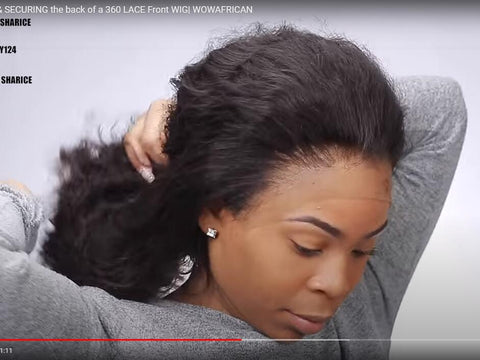 I want to keep my forehead not really minimize it too much I don't want my wig to be centimeter away from my eyebrows. I want space in between I went ahead and I use a ghost bond glue now.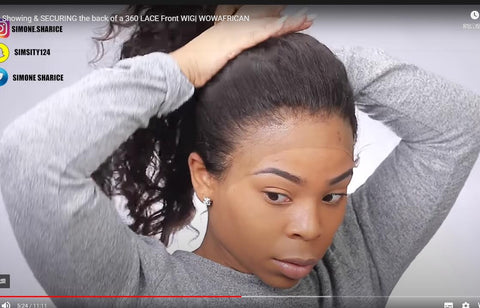 I recommend this glue for wigs as far as longevity and really keeping it on your head I would not recommend it and I've used the school in the past and it's worked for me but lately I'm finding that whenever I use this Ghost bond of glue it is not sticking it is not staying.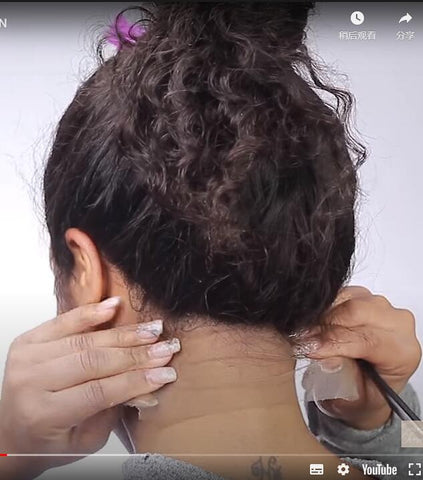 so do I recommend this glue as far as holding down your wig in place especially for a ponytail especially if you're going on vacation I do not recommend this glue for you I'm just saying that for me it did not stay as long as I thought it should've stayed so right now it's sticking very well.
 But it listed within the next 20 minutes and it was completely dry guys completely dry next I went ahead and I put my hair in a ponytail and the back we're gonna go straight to the back okay it's very hard to really get the glue on the back of your hairline .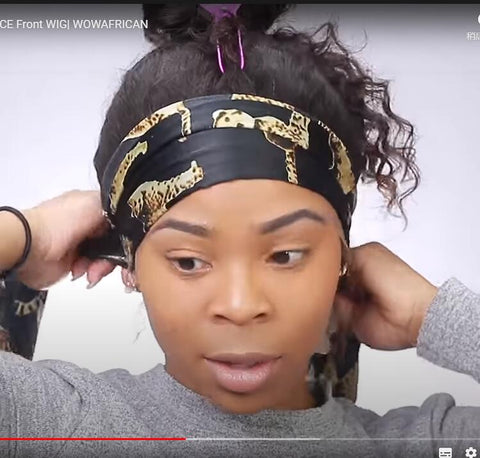 when you're doing things by yourself so it will look very messy extremely messy if you have somebody that can help you do this process I definitely recommend reaching out to them and asking them for help.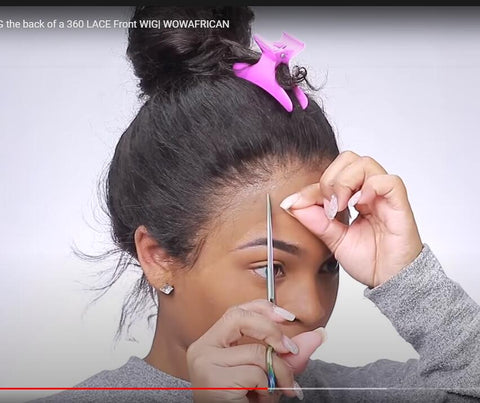 But this part was very hard I kept the lace on the back so that I could pull it down and kind of press the wig into my skin by using my hands and I blow-dried it to make it dry next I went ahead and I tied my hair for I want to say a good 30 minutes to an hour to really make it dry afterwards I went straight into cutting the lace and I kind of did it in portions so I did the first part arch part by my forehead and a very jagged motion and don't worry you're gonna have to go back probably to really get those little pieces really make sure it is flat and there's no lifting part or you can either go back and put glue underneath those lifting parts totally up to you.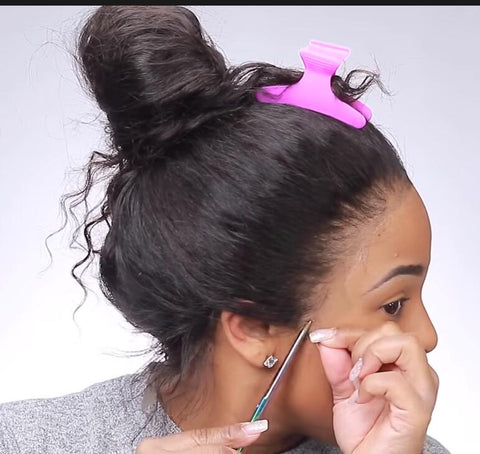 so with some alcohol I had some glue in places that made it look a little bit messy and unkept so I used a q-tip to kind of wipe away the excess glue that was around the hairline so now was time
for the back I had to go ahead and reach out for help so my cousin - I went ahead.
and cut the excess part of the lace in the back which is very important and then I went ahead and used some alcohol to wipe away anything that was there any glue pieces cut very close to the
hairline on the back you don't want any extra pieces of lace just hanging around.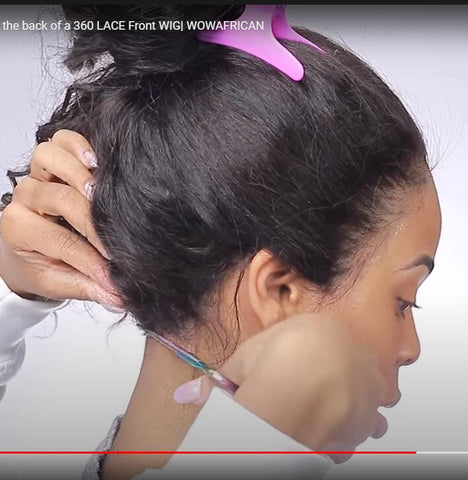 because you can see it I do wish my hairline in the back looked a little bit more natural I'm my own hardest critic but like I said I was restricted because of where they placed the actual band for a more natural and realistic back of I guess back of head I would go ahead and use a full lace wig.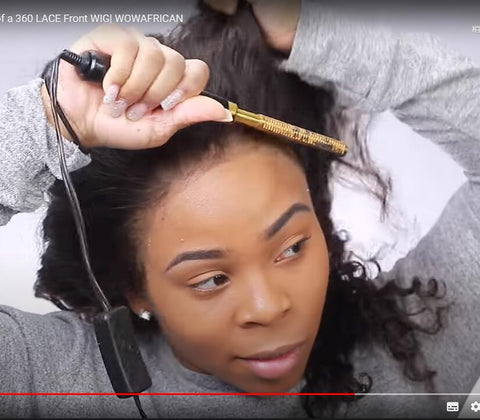 we will definitely get you to be able to pluck more and really get it to look like it could be sculpted into your hair and match your hairline but I think the results came out amazing I am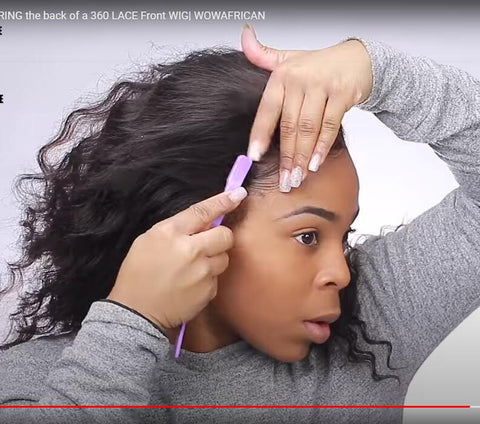 gonna give myself some props because this is the second time I'm doing this video and I think I have gotten better from the last time.
the glue lifted and I was just so upset that was all my hard work that literally just went straight out the window because the glue decided to not really do its job and I'm yes I'm gonna blame the glue.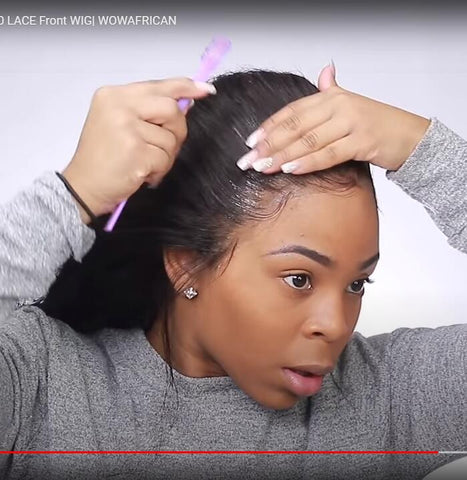 I did go ahead and add on two layers of it and it just said no girl I wanna stay however I do think  the hair did come out good again this is from about African I think I was able to lay it really flat usually when I do ponytails or any updos because there is a lot of tugging and a lot of pulling I always usually do it on the canvas head.so that it's already set and all I have to do is  just place it on my head this time I didn't do that and that's where I guess I also went wrong but I think my hair looks flawless like this I'm not gonna even like it but a ponytail is very hard.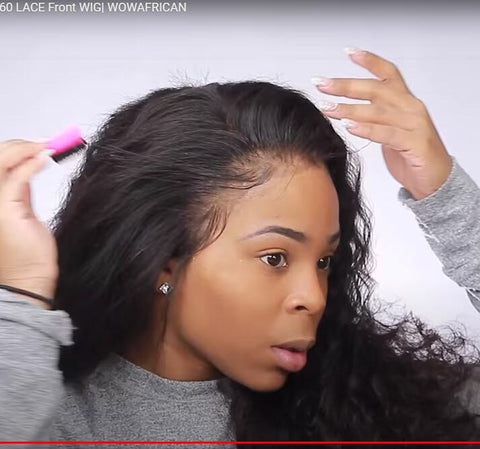 I was still able to get the best out of my look I love this hair .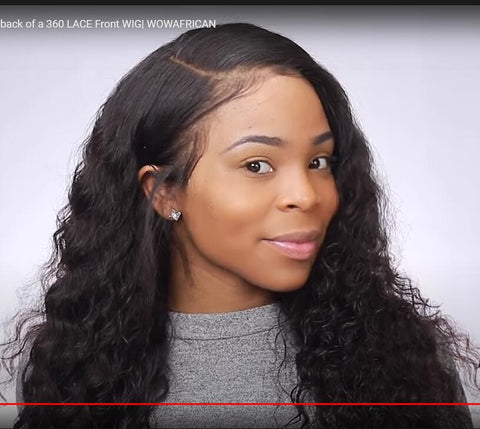 Sample Block Quote
Praesent vestibulum congue tellus at fringilla. Curabitur vitae semper sem, eu convallis est. Cras felis nunc commodo loremous convallis vitae interdum non nisl. Maecenas ac est sit amet augue pharetra convallis nec danos.
Sample Paragraph Text
Praesent vestibulum congue tellus at fringilla. Curabitur vitae semper sem, eu convallis est. Cras felis nunc commodo eu convallis vitae interdum non nisl. Maecenas ac est sit amet augue pharetra convallis nec danos dui.
Cras suscipit quam et turpis eleifend vitae malesuada magna congue. Damus id ullamcorper neque. Sed vitae mi a mi pretium aliquet ac sed elitos. Pellentesque nulla eros accumsan quis justo at tincidunt lobortis denimes loremous. Suspendisse vestibulum lectus in lectus volutpat, ut dapibus purus pulvinar. Vestibulum sit amet auctor ipsum.