Colorful Wigs NobleHair Lace Front Wig Review
This is karlies ,so today we are gonna get inspired by this really cute pink bob wig From noblehair right here.thiis is one colorful wigs which is best i have ever seen.
so then first did awake review for them right here and i was completely impressed with this wig so i m really excited to give this cute little pink bob a try.
so when i opened her i was like shocked ,oh my gosh its gonna be so pretty ,because she has so many really great attributes of a really nice wig.lets just talk about the color right here,she is pink but she is definitely like the classic a dusty pink wig.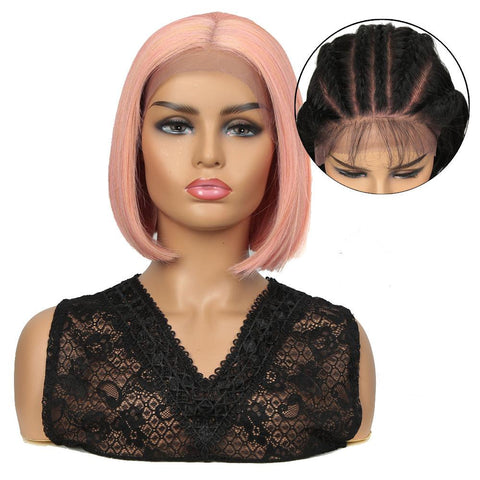 if you have that as it has some kind of orange the coral kind of toned so not every hair strand is the same color ,it has a different strand color which is really fun .
multi-dimensional and this is also a cute little 10 inch bob ,i mean really really cute .look ! how cute that is.just can not wait to put it on and the construction like this is where she is different from a lot of the other wigs is that she is a ton of lace as you as you can see here . so she is a 13x7 inches right here,omg thats a lot of lace which means you can flip her around. you can braid her ,and you can do all sorts of really really fun things with her, and then she also has a medium cap and she actually has a really nice strentch to her .so if you need a large head friendly wig she would work for you.and then ask for the lace she doses have a medium tolay.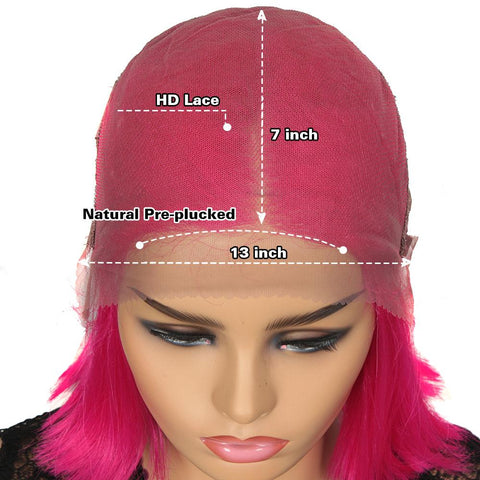 and she is very soft which is really nice and then also for the combs two combs kind of the middle sides right here and then she does have one comb in the back as well .
alright so lets out this girl on she cough with  the one that way cap right here.but it will be using a new wig cap then .
i really realy like these wig caps and i put my wigs on front to back. she is actually feels really good and light.and i love waering a little bag right.so lets take a look at this really great lace front here.so she is really plucked out very nicely .so you really dont need to do much in that regard of plucking the hair

the party looks freat yeah, so really great right there she is basically ready to go.alright so lets cut this lace off and see what she is all about and here she is.
i really feel like she has this very like chic. you know cogue ii kind of look to her. and i love that.
alright so lets take the wig brush and lightly brush her out .
okay ,so lightly brushed out not much rushung to her and she really didnt have any shedding.just a couple of hair which was really great.
alright so now since she has such a really great parting ,let us kind of creat some some flips with the wig.
so im just gonna take a comb and seize. maybe it is best if i can just do it like this .okay so this way she definitely has definitely more of a flip up whic is great .she is heat resistant so you can definitely modify her like i m kind of digging this kind of sweepy thing.and i know i have seen this style .i am always in love.i think because i know that my hair would never do this kind of weep.and i actually love love love this kind of swee of sweep right here so pretty.
what do yo guys think about that?

now let us flip her to the other side .whats with her hands and shhe is definitely giveing the same kind of flip up .look right here now again.so since she is heat-safe .you could definitely play with her so she can lay a little bit more on this flat side.lets see if this is gonna almost do the same thing. kind of sweeping.
yeah so this is almost like retro you know mad men.i dont know i am greeting this kind of like vintage vibe with her with this kind of look.
oh i just love it .

let me move her down the middle again .i just do a little spin realy quicj because since she is really pretty stacked..

she is gonna just looks prefect and glamorous .so this week of noble hair definitely check them out,i m super imoressed with this wig line,with the big lays with a nicely pilot hair line .they have so many great attributes for their wigs .i m super excited to have found them .
so i want to know if any of you have this wig or if you have a favorite noble wig please share with me i would love to see you in wigs.so reach out to me on this ram .that is such a great way for you to share with me your photos of you being fabulous.and amazong in this crazy world.so let us all have fun waering wig and live our best live lives cuz remember it is your right.
every single day of your life to be fabulous as you want to be and if you feel fabulous in the stunningly chic bad wig ear itlove it and own it i want to thank you and see you soon.
if you want to buy other coloful wigs click here
Sample Block Quote
Praesent vestibulum congue tellus at fringilla. Curabitur vitae semper sem, eu convallis est. Cras felis nunc commodo loremous convallis vitae interdum non nisl. Maecenas ac est sit amet augue pharetra convallis nec danos.
Sample Paragraph Text
Praesent vestibulum congue tellus at fringilla. Curabitur vitae semper sem, eu convallis est. Cras felis nunc commodo eu convallis vitae interdum non nisl. Maecenas ac est sit amet augue pharetra convallis nec danos dui.
Cras suscipit quam et turpis eleifend vitae malesuada magna congue. Damus id ullamcorper neque. Sed vitae mi a mi pretium aliquet ac sed elitos. Pellentesque nulla eros accumsan quis justo at tincidunt lobortis denimes loremous. Suspendisse vestibulum lectus in lectus volutpat, ut dapibus purus pulvinar. Vestibulum sit amet auctor ipsum.