Fashionable and comfortable headband wigs provide you with the most natural look and meet all your needs. Like its name, a headband wig is a combination of headwear and a wig. they are wigs with a headband attached, and the hair is sewn on a soft wig cap. The special part about these wigs is that they only go on the back of your head while you style your natural hair in the front. This kind of wig will not have the embarrassment of showing the hairline and does not need other wigs. This kind of glue is fixed, very light, can highlight the temperament, very suitable for daily wear, you can change the hairband to match the wig according to your needs.
   Compared to wearing a lace frontal wig, you only need to spend about ten minutes to put on the wig, while wearing a lace wig will take 1-2 hours. So, a wig with a headband attached is a kind of great hairstyle for beginners. When you go out in the morning, it can save you a lot of time and save your hair care time. You can put it on your head directly, use any headband to fix your hair, and just adjust it.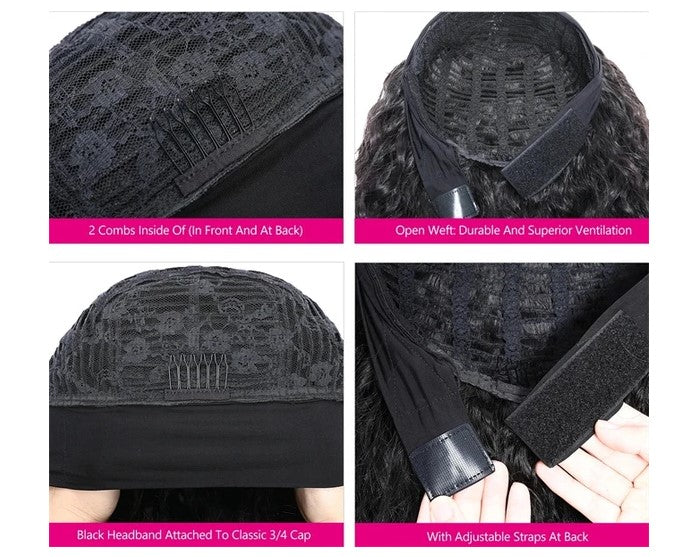 The headband wig can protect your hair from those chemical glues. There is no lace for headband wigs, so customers will not need to spend time cutting extra lace at all. Then, you do not need to use glue to install the headband half wig, this can prevent bad-quality glue from damaging your health and protect your skin. These hair extensions, especially wigs, can protect the hair. Headband Wigs can protect your natural hair from sun, dust, wind, and pollutants.
   Because its headband can be replaced, it means you can change the headband according to your clothes, so your collocation will become very diversified. With headband wigs, you can get new hairstyles in several minutes without going to the salon. When you are tired of putting on the lace wigs or sew in hair extensions, try the headband wigs!
---