AILSA ----
 Large
13*4 Lace Fronta
l allows to free part and hair, the perfect amount of slight wave, absolutely
amazing ombre color
,  
like human hair
 synthetic texture,those features create the most perfected straight-wavy hairstyle. 
13*4 Lace Front ---
The ear-to-ear lace front allows free part and hair bang, the hand-tied technique, and baby hair creates a natural-looking and allows flawless off-face styling.
Amazing Ombre Brown---- From the dark brown to the brown blonde, Willow makes blonde hair so amazing and flattering. There is a blonde for you.
Like human hair---This synthetic hair has a natural luster and texture without unrealistic shine and chemical-ish yuck smell, very natural like human hair, can be restyled by flat irons (up to 350 ℉)
Capless Wig --- Open wefted wig is known as "capless wig",which is airy and breathable, allowing for better air circulation to keep you comfortable. it is great for occasional wig-wearers.
PRODUCT INFORMATION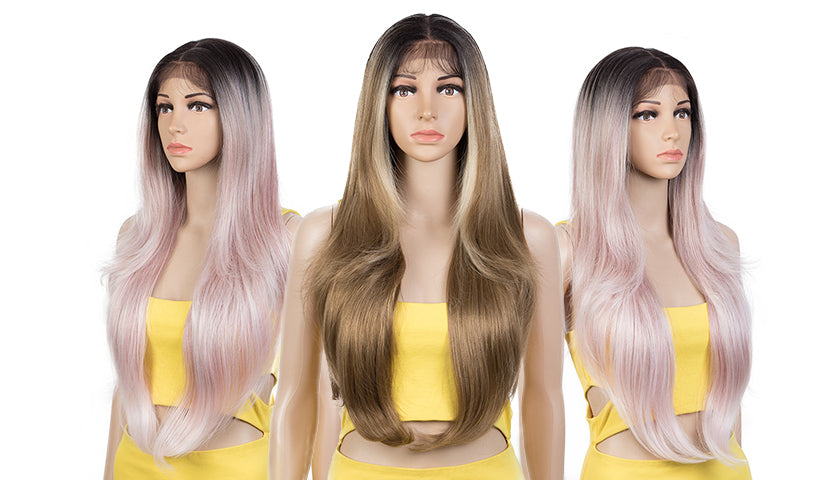 Wig Style: Lace Frontal  Long Straight Hair Wig
Collection: Ripple Fairy
Cap Size: Average
Hair Texture: Long Straight Wig 
Hair Material: Heat-resistant Synthetic Hair
Length: 28"
Weight: 5.1 oz
Available Color: TT4-PKGDPK; TTHL414613
Brand:NOBLE
HAIR QUALITY
The hair has a natural luster and texture without unrealistic shine and chemical-ish yuck smell, very natural like human hair, can be restyled by flat irons (up to 350 ℉)

COLOR DISPLAY
13*4 LACE FRONT 
SPECIAL FEATURE
1, Open Wefted Cap is light and breathable open cap which is comfortable to the wig-wearer;
2,3 Reinforced Combs on back& sides for secure comfort;
3,Adjustable Straps on both sides of the cap allows quick size adjustment up to ½";